Panama City Beach
Dolphin Tours
Make the most of your visit to Panama City Beach. Enjoy Colorful wildlife, outstanding beaches, relaxing days, and a wide selection of leisure activities for the whole family.
Dolphin Tours in Panama City Beach
The best place to see dolphins in their natural habitat is in the waters of Panama City Beach. The nature of the area's shallow waters, protected by a barrier island, makes the area perfect for dolphin watching. The dolphins that visit the area are known as the Atlantic bottlenose dolphin. They are intelligent and playful creatures that are easy to spot if you go on a Panama City Beach dolphin tour.
While dolphins are the most popular marine animals in the world, they are not the only creatures who live in the oceans. The number of marine animals is staggering, with scientists estimating that there are at least 39,000 different species.
A few of the more popular marine animals for viewing are
Blue Whale
Bottlenose Dolphin
Humpback Whale
Orca Whale
Pacific White-sided Dolphin
Royal Blue Tang
Sperm Whale
Spectacled Caiman
Spotted Eagle Ray
Spotted Dolphin
Whale Shark
Atlantic Spotted Dolphin
Encounter Dolphins in the Wild
in Panama City Beach, FL
Panama City Beach is one of those places where everyone can enjoy themselves. With its glorious white sand beaches, the sparkling blue water of the Gulf of Mexico, and plenty of activities on land, it's an ideal family vacation spot.
One of the most popular things to do in Panama City Beach is to go on a dolphin tour. Dolphin tours are a great chance to see Wild Bottlenose Dolphins in their natural habitat.
Our Panama City Beach Dolphin Tours take you to a beach in Panama City Beach, Florida, where you will be able to interact with wild dolphins in their natural habitat.
Located on the Gulf Coast of the Florida Panhandle, Panama City Beach is a coastal city of about 35,000 residents, famous for its pristine white sandy beaches and emerald green waters.
Family Dolphin Tour in Panama City Beach, FL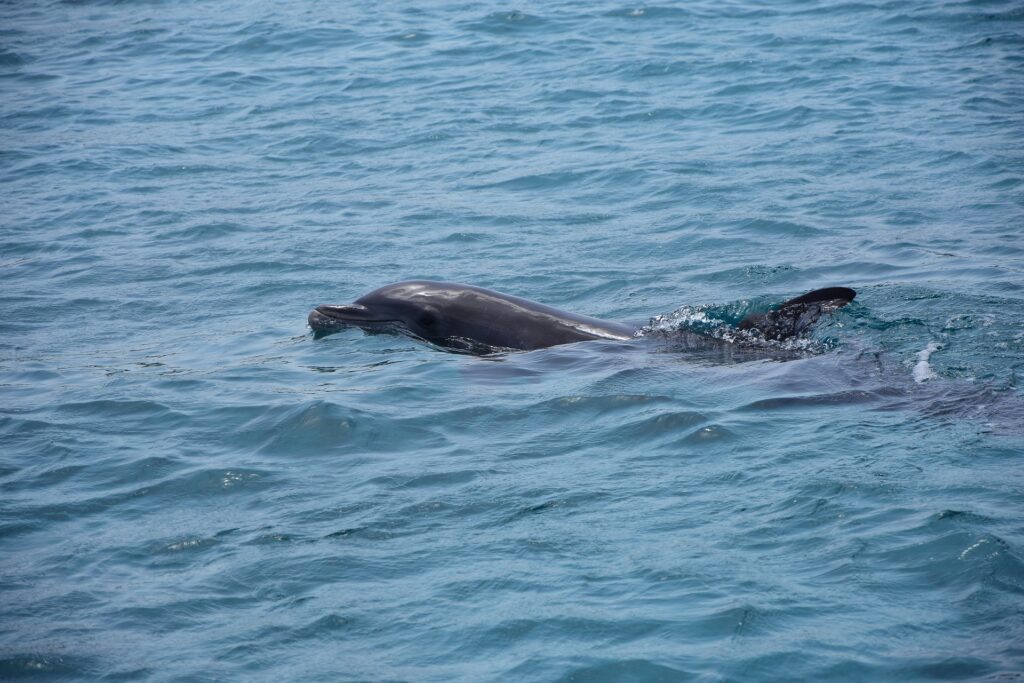 Panama City Beach is a busy vacation destination, and your vacation experiences are supposed to be relaxing. It doesn't get more relaxing than getting on a boat and watching dolphins frolic in the ocean.
The tours we run of Panama City Beach are fun, safe, and very family-friendly. Each dolphin tour is led by a trained guide who has been with the company for numerous years and knows the best spots to spot dolphins.
We get the question all the time: Is this tour a good idea for families? The answer is yes and no. If you have a bunch of athletic, adventurous kids who love to play in the water, then this tour is perfect for you.
But if your kids are hesitant about spending time in the ocean, the dolphins won't be able to overcome the resistance. If they're reluctant, it's a good idea to book the tour anyway. This way, once they see what a fun time you're having during the tour, they'll be more open to it.
We can't guarantee that your kids will suddenly become water babies, but we can tell you that even if they don't, your family will have a great
Small-Group Panama City Beach Dolphin Tour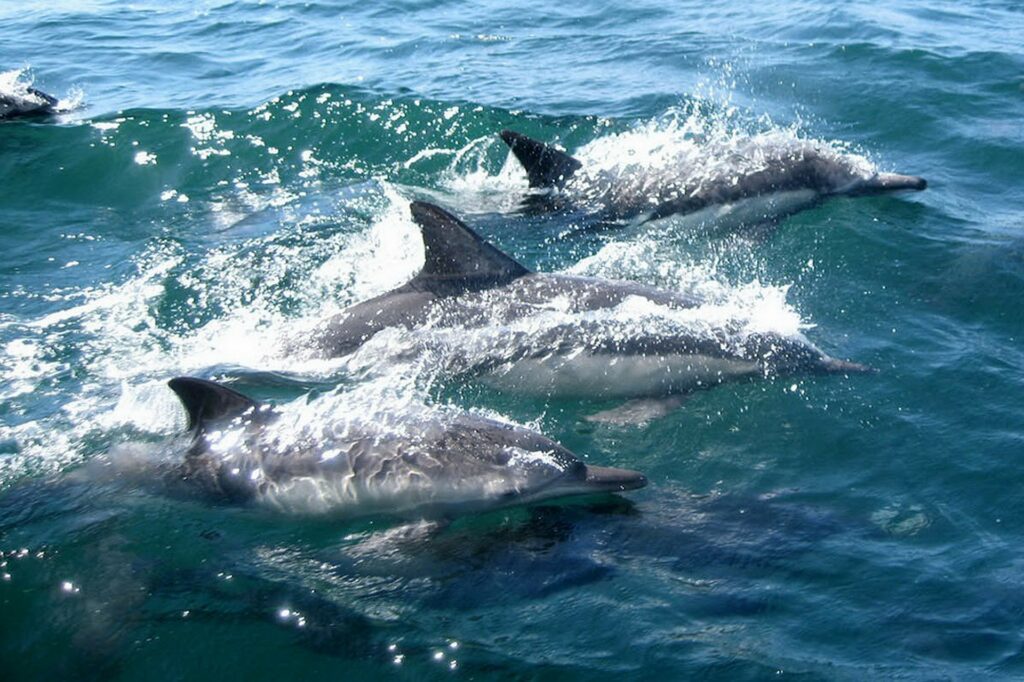 Do you love dolphins? We offer a small group tour of Panama City Beach Florida that lets you get up close and personal with over a dozen dolphins. Each tour is led by a US Coast Guard licensed captain who provides extensive information on the dolphins, their habitat, and their behavior.
If you're visiting Panama City Beach, Florida, and you want to get up close and personal with dolphins, but you don't have a ton of time for a full-day excursion, a half-day dolphin watching tour might be just what you're looking for.
(The downside to a shorter trip is that you'll have to get up early!) A half-day dolphin watching tour is a great way to get some time on the water, learn about the marine wildlife around your area, and make some memories with your family.
Dolphin and Snorkel Tours in Panama City Beach, FL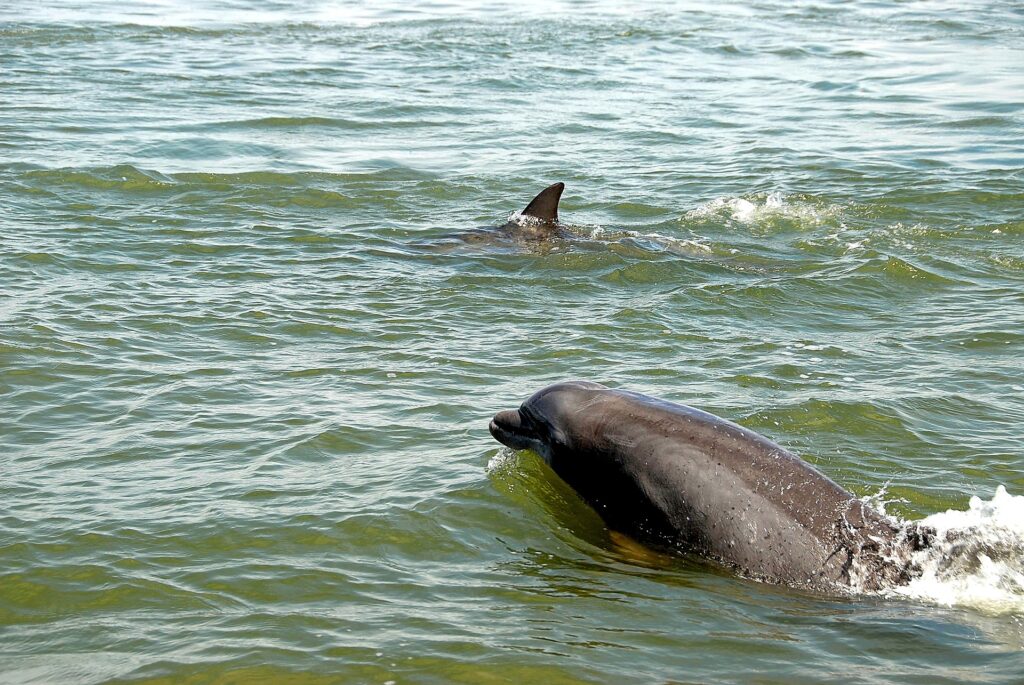 Our tours are a great way to learn about the wonders of these majestic creatures and the best places to see them in action. Our qualified and certified tour guides are dedicated to sharing their knowledge and passion with you to make your experiences both educative and fun-filled
If you want to enjoy a once-in-a-lifetime experience, then you have to get out on the water. The best way to see the dolphins in their natural habitat is on a dolphin and snorkel tour. If you want to actually get in the water with the dolphins, then this is a once-in-a-lifetime opportunity.
The tours will take you around the coastline of the beautiful Panama City Beach Florida. You will get to see dolphins, rays, and even manatees. The dolphin and snorkel tour is a wonderful way to spend time with the family. The staff is friendly and will take you around the area.
Sunset Dolphin Cruise
in Panama City Beach, L
So, you've been to the beach, you've done the water slides, you've hung out at the hot dog place, but the day is still young and you're feeling adventurous. Okay, we'll bite. If you're up for a one-of-a-kind adventure, head over to Sunset Point, A local tour company called Gabby's Dolphin Tours offers sunset dolphin cruises that depart from Sunset Point at 6 pm.
The cruise, which costs $25 per person, lasts about two hours; during the cruise, you watch for dolphins and other sea life, and you get a history lesson about the area, all while enjoying a beautiful sunset!
Our Sunset Dolphin Cruise is an hour boat ride that will take you closer to the dolphins than any other place. Your captain and crew will provide you with the most amazing dolphin experience while taking you on a breathtaking tour of the Gulf of Mexico.
What to Bring for Your Dolphin Trip
in Panama City Beach, FL
There is no doubt that you will have an amazing time on our Panama City Beach Dolphin Tour! But, there are a few things you should know before you go. If you are taking your kids on the Dolphin Tour for the first time, you should familiarize yourself with the rules of interacting with the dolphins.
Also, if you want to take pictures, you will need to use waterproof cameras. You can also bring some sunscreen to keep you protected since it is easy to turn on the water.
While it's true that dolphins can be seen pretty much anywhere along the Florida-Alabama coast, A few places where you are guaranteed to see these animals are Pier park, Shell island, and Sandestin. Panama city beach is home to so many dolphin tour companies like us. And we take pride in being the best dolphin tour company in Panama city that guarantees seeing dolphins..